The San Jose Flipper Dippers' Favorite Web Sites
---
Here you'll find some of our favorite diving-related Websites and other
useful information that you'll want to check out when planning your dives.
---
---
Become a Certified SCUBA Diver - Ages 12 and Up . . .


Local Diving Instruction - and Dive Gear Too!
Be sure to tell the shops you found out about them on the San Jose Flipper Dippers' Website!
Any Water Sports, Saratoga Ave., San Jose (Refresher classes too!)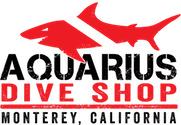 Aquarius Dive Shop, Del Monte Ave., Monterey (Now part of Any Water Sports)
---

Pacific Scuba Divers, Homestead Road, Sunnyvale
---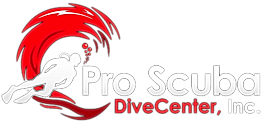 Pro SCUBA Dive Center, Scotts Valley
---

Pacific Ocean Water Sports is a new dive shop located on 1st Street in Gilroy
---
Be sure to tell the shops you found them on the San Jose Flipper Dippers' Web site!
---
Monterey Dive Boats Matrix - New Updated Information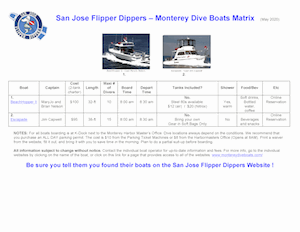 Here's an easy to use matrix of the two Dive Boats currently operating in the Monterey Bay. Click on the image above to see a pdf showing photos, specifications, costs, boarding times, and tanks supplied for the boats including: Beachhopper II and the Escapade. Be sure to check This Month's Activities to see which boat we'll be diving off.

So Long Sanctuary Dive Boat The owners of Sanctuary Charters have shut down the opertion and the boat is up for sale.
---
How About Some Real-Time Webcam Sites?

---
Monterey Breakwater Live: Breakwater
This LIVE camera spans back and forth looking out over the Breakwater and the Coast Guard Pier. Good view of people on the beach and surf action. The camera will sometimes zoom in and stop for a close-up of the beach or otters playing in the water. (Operated by Surfline & hosted by Adventures by the Sea.)
---
Monterey Cannery Row Live: Cannery Row
This LIVE camera spans back and forth looking out over Monterey Bay. Great views of the ocean and skyline where you can see the conditions, boats and even kayakers out on the water.
---
Live Stream of Whalers Cove, in Pt. Lobos
With the easy access and great diving, Point Lobos is a wonderful place to dive. (Click on Image below)
---
Live Cameras Overlooking the Monterey Bay in Carmel: Look here at the Pebble Beach Golf Links
Here you can see what the ocean and Monterey Bay look like at Stillwater Cove.
Webcams include: 1st Tee, 17th, 18th Greens and the Putting Green. Some of the Webcams are occasionally turned off during major golf events.
---
The Santa Cruz Beach and Harbor Cams: Santa Cruz Harbor
The official web site for the Santa Cruz Port District with a LIVE Webcam of the Small Craft Harbor - including the beach in front of the Crow's Nest restaurant. The camera can be controlled and positioned to view various areas.
---
Below are a number of sites that report ocean conditions and projections.



---
Coastal Data Information: Coastal Data Information Program
Wherever your diving takes you along the California Coast, check out this site containing great information for the entire coastline - in real time! Great color graphics of wave heights and forcast models for planning your divies. You'll want to check this site during lobster season too!
---
Monterey Bay Buoy: NDBC Station 46042: Monterey NOAA Station
Planning a dive in Monterey or Carmel? Here is a good site to look at for real-time conditions in the Monterey Bay.
---
Bodega Bay Buoy: NDBC Station 46013: Bodega Bay NOAA Station
This is a good site to look at for planning your North Coast weekend or weekday dives near Ft. Ross State Historic Park or other areas along the Sonoma Coast (Closed to Abalone Diving).
---
Point Arena Buoy: NDBC Station 46014: Pt.Arena NOAA Station
This is a good site to look at for planning your North Coast weekend or weekday dives out of Van Damme State Park, or Albion, and along the Mendocino Coast (Closed to Abalone Diving).
---
Tanner Banks Buoy NDBC Station 46047: Tanner Banks NOAA Station
This buoy is located about 20NM north of Cortes Banks (100NM West of San Diego and 40NM Southwest of San Clemente Island), a seamount rising to within 20 feet of the surface in the open ocean, where liveaboard dive boats go during lobster season. There is also the wreck of the USS Abalonia in about 40 feet of water, sunk in 1969. Keep an eye on this buoy's data if you're planning to dive for lobster at Cortes Banks.

---

NOAA West Coast Tide Predictor: NOAA West Coast Tide Predictor
This link will provide you with predictions for tides along the U. S. West Coast. When you get to the page, scroll down the list to find the location of interest. You'll find Monterey, Point Arena and more. Each location shows a plot and text listing of high and low tides. Option includes changing the date for future and past tides.
---
Diving off the California Coast?


California State Parks California State Parks
Find information on California's parks for skin and scuba diving, camping, hiking, and many other activities. Park descriptions, services, amenities, maps, brochures, videos, and reservation links can be found on this site.
---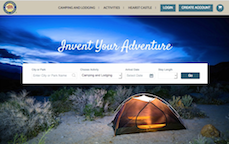 NEW! California State Parks On-Line Camping Reservations: Reserve California
Camping reservations for California's State Parks are available on-line through the new Reserve California Website. Most parks require you to make "site-specific" camping reservations and you'll be prompted to pick a specific site. If you have an RV make sure the site you want can accommodate the length. Camping site maps and general information for California State Parks can be found on this Website.
---
Aerial Photographic Survey of the California Coastline
The California Costal Records Project: The California Costal Records Project
Look up and see stunning, high resolution photos of your favorite dive site! This is an on-going aerial photographic survey of the California coastline.

This Web site has over 34,557 photographs of the current California coast -- roughly one every 500 feet -- covering from the Oregon Border to the Mexican Border. An additional 5,833 images from 1972; 8,000 images from 1979; 4,173 images from 1987; and 1,074 images from 1989 are also online.
---
The World's Famous Aquarium

The Monterey Bay Aquarium
Visit the world-famous Monterey Bay Aquarium LIVE on-line! Lots of new interaction the whole family will enjoy. Be sure to visit the live video camera showing the kelp tank - makes you want to go diving!
---
Ships to Reefs
Ships to Reefs International: Ships 2 Reefs International Website
Ships to Reefs International is a movement in support of the sinking of retired naval vessels for the creation of man-made reef projects around the globe.
---
Dive Organizations and Other Great Web Sites

Central California Council of Diving Clubs (Cen Cal)
Find out about many of the activities and issues that might impact your Northern and Central California diving. Interested in competition freediving? Look here for the Freediving schedule and latest results. Also, Links to many central California dive clubs.
---
World Wide Scuba Clubs Directory lists dive clubs around the world and offers additional dive information.
---

The WHALE TAIL License Plate sponsored by the California Coastal Commission gives drivers a way to help protect and restore the priceless resources of California's coast and ocean.

For just $50 more than the standard registration fee ($40 Renewal), you can support the preservation and restoration of California's national treasure. Purchasing a WHALE TAIL license plate for yourself or as a gift is great way to show your support for the environment while making a real difference in environmental causes in California.

The funds generated from ecoplate sales directly benefit environmental restoration, recreation, and coastal and marine education programs. The DMV distributes funds from the sale of ecoplates to the California Coastal Commission or the California Tahoe Conservancy and to the California State Environmental License Plate Fund.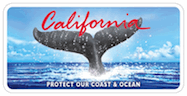 ---

DAN (Divers Alert Network
Promotes safety, education, and research of the scuba diving environment. Emergency medical advice and expert information for the diving public.
---

NAUI (National Association of Underwater Instructors)
NAUI Worldwide is the world's most respected, largest non-profit diver training organization in the world.
---

PADI (Professional Association of Diving Instructors)
Start the journey of a lifetime with the PADI Open Water Diver course. It will change you forever.
---
Scuba Educators International (SEI Diving)
This SCUBA diving course is an Internationally recognized Open Water Certification program.
---

YMCA of the USA discontinued the scuba certification program on December 31, 2008. The lifetime scuba certification will remain valid. SEI Diving can assist those with fulfillment of a lost YMCA certification card. Visit the SEI Diving Website: SEI
---

USOA (Underwater Society of America)
Since 1959, the Society has been active in issues affecting divers right to dive, marine ecology, safety, legislation, conservation and the like.
---

Pacific Whale Foundation, Maui, Hawaii
Pacific Whale Foundation is to inspire and promote appreciation, understanding and protection of whales, dolphins, coral reefs and our planet's oceans. If you visit Maui be sure to stop by!
---
UnderwaterTimes: UnderwaterTimes
This Web site was conceived as a news portal that would focus exclusively on the underwater world. The news would be offered the old-fashioned way: delivered everyday, without bias, agendas, or heavy-handed politics, edited with an independent-minded, witty approach.
---
The Oceancoalition: The Oceancoalition
This is an e-mail list focused primarily toward recreational hunters and users of the ocean. It is used to alert list members of upcoming California Fish and Game Commission meetings as well as Pacific Fisheries Management Council meetings and the issues being considered. If you are interested in being part of a united voice through letter writing and/or meeting attendance, then this list is for you.
---

California Diving News
California's dive magazine is published monthly. Copies available at The San Jose Flipper Dippers' General Meetings and many dive shops. Monthly features include: Dive Spots, Gear Reviews, Photography, Guest Editorials. Also sponsor of the Annual SCUBA Expo in Long Beach.
---
West Coast Shore Diving: Shore Diving
A Web site that offers divers the opportunity to get lots of information on dive spots that are accessible from the shore. Areas include Washington, Oregon and California with 110 sites and 400 pictures, as well as Hawaii and others. You'll find directions to each dive location, including precise GPS coordinates.
A photo of the beach, directions and road turn-off, road type, parking availability and entry conditions. Aerial photographs provide detail of reef formations and places to explore. You'll also find a sampling of resources: dive shops, guides, restaurants and accommodations within vicinity of dive site. There is a section of reviews by divers who have visited the spot. You too can post your comments so others are aware of what the dive spot has to offer.
---
---
Dive Safe and Have Fun!
---
Come join us at our monthly meetings and dives!
Need more info? Contact: clubinfo @ SJFlipperDippers .com
---
Flipper Dippers Home Page / This Month's Activities / Membership Requirements
Star Achievement Program & Requirements / 2021 Calendar of Events
Related Web Sites / Taking Game in California Waters
---
© 2021 San Jose Flipper Dippers